AtroCore - configurable open source data platform
AtroCore - configurable open source data platform
AtroCore is a flexible, configurable open source data platform. We offer you a variety of interesting modules as well as first-class support directly from the source. We would be happy to advise you and help you to integrate our solutions and synchronize data with other systems. Our solutions are always geared to your needs and requirements, regardless of your industry and the specifics of your activity. Don't worry, AtroCore is flexible enough for that!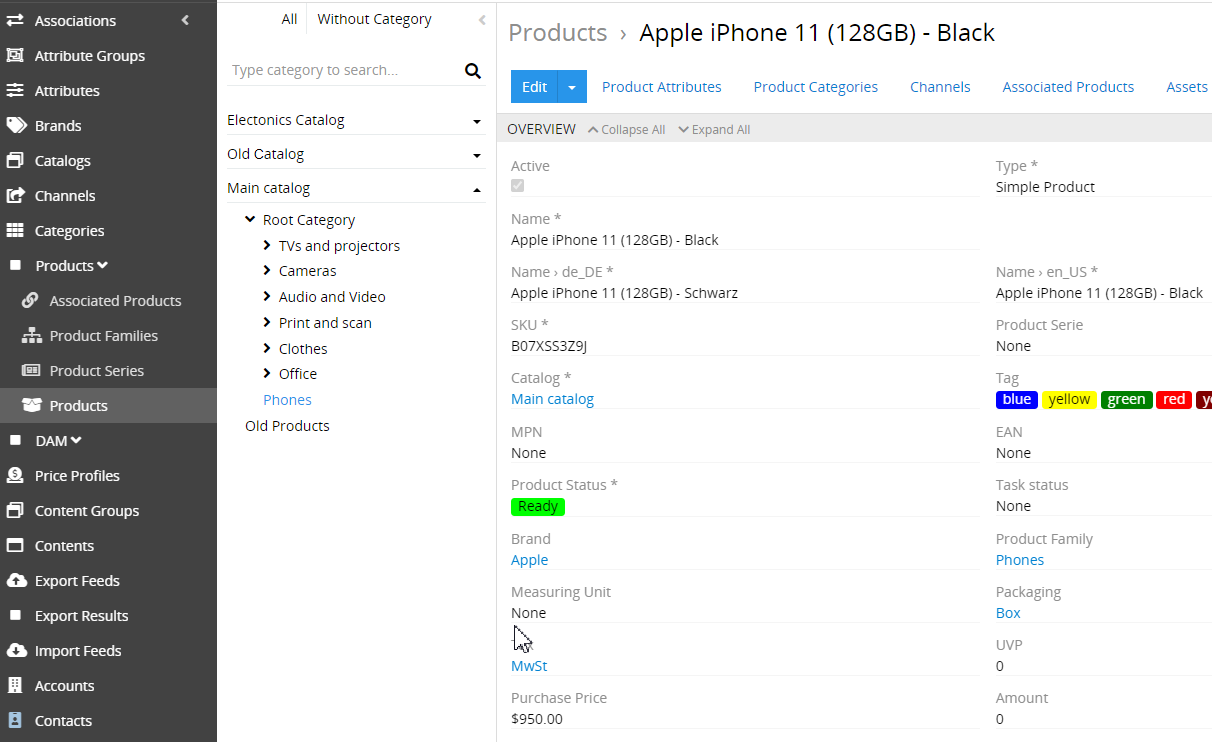 AtroCore Features
AtroCore is a fast, user-friendly, open source and configurable Data Platform and Master Data Management (MDM) solution for SMEs. AtroCore is an excellent solution to automate your processes in sales, marketing, support and other business areas and standardize your data and its quality. AtroCore MDM saves your employees time and increases productivity as well as the quality of the work by quickly and easily adapting the solution to your specifics.
Products
Customers
Suppliers
Partners
Contracts
Orders
Documents
Spreadsheets
Images and other Digital Assets
Product Data Sheets
etc.
Activities and collaboration
Dashboards and configurable widgets
Assignment of the data records to users or teams
Tasks
System notifications
Email notifications
Activity panel with change history and notes
Automatic protection against data overwriting
Following
Seamless Integration
REST API with documentation
Configurable export feeds for each entity and its direct relations
Configurable import feeds for each entity and its direct relations
LDAP authentication
Scheduled Jobs
Many connectors
Configurable navigation and dashboards
Configure the navigation in a way that is convenient for you
Combine the entities in the navigation in groups
Configure several dashboards so that you are kept abreast of the most important information
Choose a suitable theme - dark, light or classic
Allow users to use avatars
Configurable entities
Create any new entities in the system to manage your data
Customize the existing entities
Determine rules how these entities should behave
Determine whether entity records have an assigned user, owner, and teams
Activate the completeness control, separately for each entity
Turn task management on or off
Define the fields for data filtering and activate the full-text search
Enable or disable the activity panel for each entity
Configurable fields and relations
Determine the fields that an entity should have
Use over 20 predefined field types
A field type determines the validation rule for their values
Use the label configurator to edit the headings
Configure the conditions that make a field visible, optional, or mandatory
Configure one-to-many, many-to-one and many-to-many relations between any entities
Configure the properties of relations
Configurable layouts
Configure all layouts in the system - detail views, list views, linked entity panels and side panels
Configure the fields for mass update
Configure the fields for data filtering
Configurable access control
Configure and use users, teams and roles
Assign roles to users or teams
A user can have more than one role
Configure the access levels so that the user can only access his own data records, his team's data records, or all data records
Configure the permissions for individual fields of an entity
Modular and expandable
Manual or automatic system updates and upgrades
Install, uninstall or update all modules directly from the admin area
Automatic control of the dependencies, an update / upgrade will not paralyze your system
Order individual modules created for you to adapt or supplement the existing functionality
If the update fails, the system will automatically restore itself
Use AtroCore together with AtroPIM and AtroDAM in one software instance
Interested?
Talk to us or book a personalized demo.
Why AtroCore Data Platform?
Web-based and 100% open source
Platform-independent and mobile-friendly
No license costs and other restrictions
Expandable with PIM and DAM
Expandable and adaptable with your own modules
Modern, user-friendly, understandable and responsive UI
Unlimited number of users
Extremely fast thanks to the use of modern technologies
Flexible and configurable
100% flexible data model
Configurable entities and relations between them
Over 20 predefined automatically validated field types
Configurable layouts
Efficient collaboration thanks to assignment, tracking and activities
Low implementation costs
Short time-to-market
Can be used across industries
Our services
Implementation
With the implementation of an MDM system, you can increase the quality of your data and optimize your processes.
Support
Even after the launch of your master data management system, we will be happy to support you. We are geared towards long-term cooperation.
Consultation
We advise you and present you with different solutions. You, in turn, make the decision about which of the possible solutions best suits your ideas and needs.
Migration
We would be happy to migrate your data from any other system.
Development
We program the additional functions and modules for you to precisely map your processes.
Integration
We integrate AtroCore MDM with any third-party system and can also ensure fully automated data exchange.